5 Reasons for Dental Complaints and Treatment Problems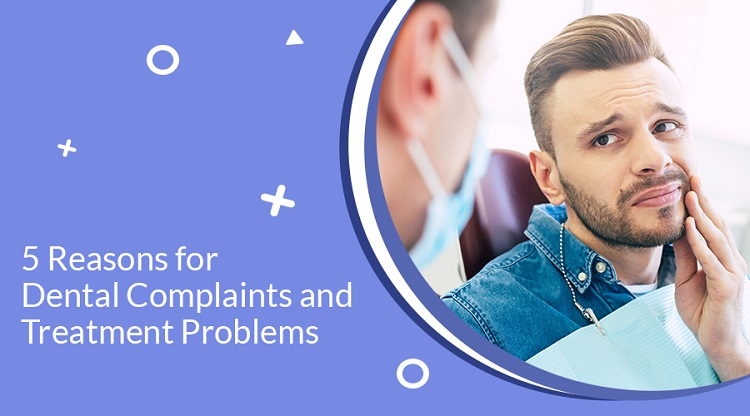 During the recent five-year period, dental professionals have talked about more than 9,000 patient complaints. Well, these complaints are the most common reason for dentists to call the Dental Defence Union's (DDU) advice line.
According to the NHS statistics, it has been found that the dental practitioners obtain thousands of complaints each year. Earlier in 2018/19, there had been 14,000 NHS complaints which was 10% increase on the previous year's figure of 12,700.
Let us find out common issues patients usually complain and with the help of a sample month of complaints, go through the five reasons behind them as suggested by the dental hygienist:
Unsatisfactory clinical examination such as – allegations of improper technique, adverse incidents, poor treatment result that cannot fulfill the needs and expectations of patients.
Postponed diagnosis or alleged failure to detect the signs of gum disease, tooth decay or oral cancer
Communication problems such as misunderstandings related to the treatment advice or probable complications
Fees/charges that include confusion over the treatment cost if it had been provided on private basis or an NHS
Staff attitude or behaviour like allegations of rudeness or an indifferent manner.
Dental treatment issues
This post discusses about most common cause of complaints which may arise due to disappointing examination or treatment. Go through the example discussed below based on DDU files.
There was a patient of 25 years who did not have any previous fillings registered with the new practice. During the first consultation, a bitewing radiograph denoted a significant carious cavity inside the mesial aspect of UR4. The dentist then explained the patient who gave her consent for a filling and at the same time, expressed concerns about the effect on the teeth appearance.
After the patient returned, the dentist restored tooth through an amalgam filling though the tooth had lost vitality and she had to undergo endodontic treatment. Later, she complained about the bad aesthetic impact of silver filling and failure of the treatment.
The practice investigation denoted a breakdown in communication between the dentist and the patient. The dentist realized that he should have invested more time to emphasize on the decay revealed through radiograph image. He also warned there was some kind of risk that root canal treatment might be needed. He agreed about making it clear why an amalgam filling was more appropriate and talked about the understanding of the patient.
There had been a significant number of complaints related to poor treatment which reflect technical failings by the practitioner. But different cases stem from communication issues with patients being unhappy that the treatment result had fallen short of their expectations.
Important points to consider
Gain trust of patients and build honest and open dialogue which are important as an operative skill for the dentist
Communicate effectively with patients and manage their expectations by keeping a note of any warnings related to the limitations of treatment apart from patient's circumstances
When getting consent from the patient, take sufficient time to explain the treatment benefits, risks, complications and other options
Know the limitations of your clinical skills and prepare to refer patients to the specialist in case there are complications or the patient has a complex history
Understand present guidance to ensure the treatment is evidence-based
Apologize and give proper explanation in case things go wrong. With appropriate remedial treatment for no extra cost and refund of fees may help to resolve the concerns of patients
Get advice from dental defence organization or DDU when you require further support.
Thus, several factors are there that might contribute to an unsuccessful treatment result from a recognized complication to the patient's unwillingness to follow post-operative advice. Patients may agree upon such scenarios only when they have been explained in advance. Common search strings like, "dental hygienist near me" will enable you to find one in your area and get mouth cleanings done from him.